Welcome to POWERSTRETCH

TM

, the latest and most popular Body Toning Workout created by Celebrity Fitness Trainer Derrick Ee
What happens when you combined Dance + Workout + Kungfu into 1?   Yes, that's the latest invention POWERSTRETCHTM Body Toning Workout that has become extremely popular, all thanks to the creator, founder of POWERSTRETCHTM Body Toning Workout - master trainer Derrick Ee.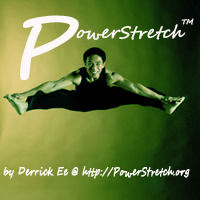 What Differentiates Derrick Ee :
Derrick is a Highly Trained Dancer, sought after Dancer/Performer and Dance Instructor
He is trained in MARTIAL ARTS and the related endurance and fitness techniques
He is an EXPERIENCED Dance and Fitness Instructor who has trained thousands of dancers and ordinary people who want to look and feel better
He is in showbusiness and knows the importance of good health, presentation and posture, which he incorporates into his PowerstretchTM Body Toning Workout
He COMBINES martial arts with dance and fitness into his body toning classes, making them tough but extremely FUN!
He is an iconic celebrity trainer!
Derrick Ee is a well known TV and stage actor, and has been dancing professionally since 1984 with The People's Association Dance Company and The Singapore Broadcasting Corporation (now known as TCS).  Derrick holds an Acting Certificate with distinction in acting, speech and martial arts.  In addition, Derrick is highly experienced in different forms of dance from Ballet to Jazz to Modern Contemporary.  He was also trained in Latin Cha Cha, Samba and Rhumba.
Since 1991, Derrick Ee has been actively involved as a choreographer and dance fitness instructor at various institutions.  He has also choreographed and trained various artistes for Mediacorp, the largest TV station in Singapore. At The Dance Station, Derrick conducts the highly popular POWERSTRETCHTM Body Toning Workout class, a unique stretch workout which combines his years of experience in dance, fitness and martial arts.
He is also the trainer for the ATOD Jazz Moves Syllabus and the highly charged and energetic DANCERCISE classes.
Because of Derrick's experience in helping people transform, he knows the biggest obstacle to many participants' aim to achieve fitness – fear and lack of confidence.  Hence, PowerstretchTM Body Toning Workout is a unique blend of stretching, dancing and fun.  You have to experience it to understand it.
PowerstretchTM Body Toning Workout is designed totone the entire body while burning fat and defining muscles using modern contemporary dance warm up routines.  Then it continues its way through strength training and endurance techniques, sculpting your physique into a lean tone body and a strong core.  This happens while you boost your metabolism levels to shed those unwanted pounds.
Meet Celebrity Trainer Derrick Ee and POWERSTRETCHTM Body Toning Workout here!  Or check out what PowerStretch™ participants are saying about this fun, intense and challenging workout!