Tired Of Your Present Physique And Need A Body Toning Workout?
Are you TIRED of your UNHEALTHY lifestyle?

Do you often feel you are  

LOSING ENERGY

 and zest at work?

Are you

LOSING CONFIDENCE

in your appearance?

Do you want to have a

LEAN and TONED BODY

?

Are you looking for help to lose fat?
Good day to you, my name is Derrick Ee, and I am a dance and fitness trainer, and creator cum master trainer of POWERSTRETCH™ Body Toning Workout.  I specialise in helping others to gain back confidence through a healthy fitness regime.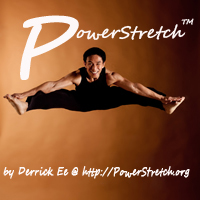 I have been teaching fitness and body toning programmes for more than 10 years, and have helped many like you to gain back their confidence through transforming their fitness levels by my carefully designed body toning and conditioning exercises. Let me share with you what Fiona Ng says :
"After giving birth, I was so focussed on my baby that I neglected myself. When I started gaining alot of weight and fat,  I lost confidence and started to avoid people.  Those days were rather dark in my life. 

But one day, someone introduced me to Derrick's PowerStretchTM  Body Toning Workout classes… and since then, there's no turning back.  I have been totally transformed.  Today, my husband feels a little threatened whenever he sees others casting admiring glances at me… I JUST LOVE THAT FEELING of feeling good and looking good!"
How PowerStretchTM Body Toning Workout Can Benefit You :
 Help you achieve your dream LEAN and TONED BODY
STRENGTHEN YOUR MUSCLES and Increase Flexibility
Better POSTURE through body toning exercises
Improved BREATHING Technique
Improves your ENDURANCE due to strengthened core muscles
Improved agility through body stretching and BODY TONING
Sexier ABS (6 pack abs not guaranteed but you can improve for sure with discipline that I teach you)
Today might be the start of a new you.  Find out more today about how <<PowerStretchTM Body Toning and Conditioning exercises>> can help you!

If you are in Singapore, contact Derrick to get 1-to-1 PowerStretch training to shape your physique.